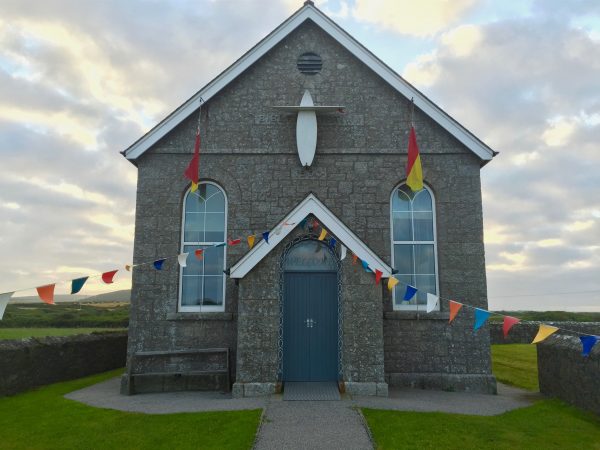 On the wettest day of our trip, we'd visited St. Michael's Mount, an imposing citadel dating to the 12th century perched high atop a tidal island. Sideways rain had battered us as we traversed a stone path visible only at low tide, but intermittent sunshine had warmed us as we'd ascended to the castle itself, where an audio tour took us through a fortress owned by the same family since 1650. After St. Michael's, we'd driven to Mousehole, pronounced mau-zel, the tiniest of seaside hamlets, where wee cottages with challenging Cornish names like "Teghyjy" and "Keigwin" boasted gardens and window boxes bursting with vibrant blossoms.
St. Ives's pedestrian streets had their own well-tended flowerboxes, but after surfing and contemplating art that sunny Sunday, I was too tired to notice them as we meandered back to our hotel. On the hotel roof deck, we savored "cream tea," a pot of tea accompanied by fresh scones, cream, and jam. As the salt air, sugar, and caffeine revived me, I noticed cotton ball clouds dotting the late afternoon sky.
Rejuvenated, we meandered back through the harbor in search of the sunset. Inevitably drawn back to Porthmeor Beach, we scaled its chapel-topped knoll, alighting on the stone wall that surrounds the 500-year-old house of worship. Chains of clouds illumined by the sinking sun made the sky look twice its size; the sea below was inky and expansive.
At that moment, Porthmeor didn't strike me as a place to frolic in see-through waves. I thought instead of the fishermen who headed out into these frigid waters, seeking a livelihood that sustained the area for centuries. My morning surf session may have evoked tropical seas; but the evening scene reassured me I was indeed in the North Atlantic.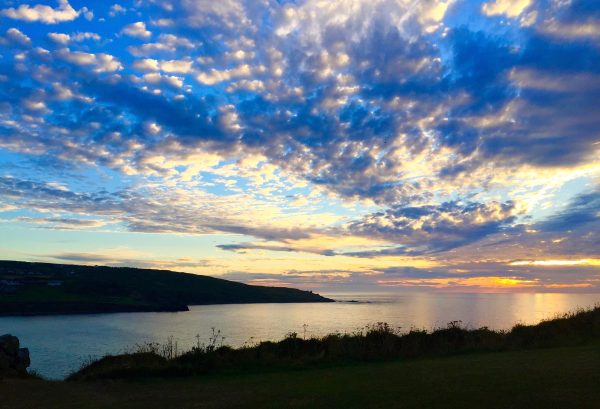 Over a dinner of roasted cauliflower, anchovy sage fritters and spicy monkfish at Porthminster Kitchen on St. Ives's main harbor, we contemplated the ribbons we'd selected at the Tate. The exhibit had suggested that, once the satiny ribbon fell off, the wish written upon it might come true.
I had tied my jade-toned ribbon on tight; it fell off much later, in a swimming pool thousands of miles from Cornwall. I had a moment to think back to that Sunday in St. Ives. I don't know whether the hope inscribed on the ribbon, that we'll care properly for the earth, will be realized. But I do know that a less ambitious wish – for the perfect summer day – had already come true.
If You Travel to St.Ives:
Arrive
We drove a rental car to St. Ives. However, National Rail trains from London Paddington Station arrive several times a day in St. Ives. They require one change and take 5.5 to 6.5 hours. www.nationalrail.co.uk
Stay
We stayed at the Pedn Olva Hotel. A 29-bedroom hotel built atop a rock between Porthminster Beach and Carbis Bay, with views of both, the Pedn Olva's friendly service and stellar location make up for the compact guestrooms and soft mattresses.  / West Porthminster Beach, St. Ives, TR26 2EA  / Tel: 44 1736 796222 / pednolva.co.uk
Dine
Porthminster Kitchen. Excellent farm to table fare and a stunning view of St. Ives harbor. Wharf Road, St. Ives TR26 1LG / Tel: 44 1736 799874 / www.porthminster.kitchen
St. Andrews Bistro. While tasty, the French inspired menu is also rich and pricy. / 16 St. Andrew's Street, St. Ives TR26 1AH / Tel: 44 1736 797074 / bistrostives.com
Harbour Fish & Chips. The fish is crisp and fresh at this chain store's St. Ives location.  / 4 Wharf Road, St. Ives TR26 1LF / Tel: 44 1736 799295 / harbourfishandchips.co.uk
Pasty Presto. Cornish pasties with traditional and inventive fillings. / 9 Fore Street, St. Ives TR26 1AB / Tel: 44 1736 793470 / www.pastypresto.com
Author Bio: Noelle Salmi has lived on five continents, and surfed on four of them. She is the author of several Frommer's guidebooks, and her writing has appeared in the San Francisco Chronicle, Jornal do Brasil, Bay Area Parent, Indagare Magazine, Tablet Magazine, and other online and print publications. For more visit www.noellesalmi.com.