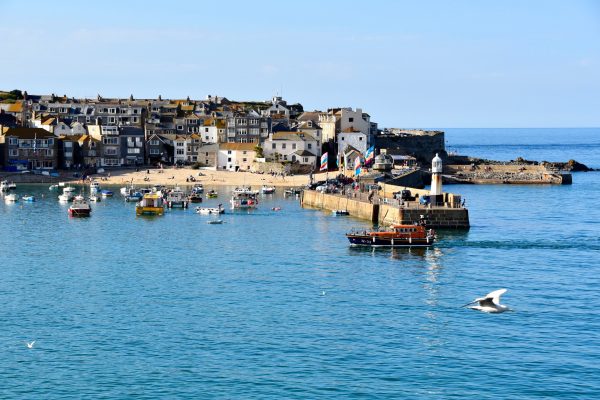 Tidal swings can surpass 20 feet (6 meters) in Cornwall, and by 10 a.m. the receding tide had pulled us back 100 yards (30 meters) from where'd we'd begun, reducing the waves to mere splashes on the shore. Reluctantly, we paddled in and trod past English families arriving with their beach gear to the ramp leading out of the Parthmeor cove. Surfboards under our arms, we traversed St. Ives's steep streets towards the Pedn Olva Hotel, an unadorned inn hugging the cliff beyond St. Ives's fishing harbor.
Once showered, with damp wetsuits draped throughout our petite "family cabin" room, we headed out to explore St. Ives's artistic treasures. Painters like William Turner sketched St. Ives's scenic vistas as early as the 1810s, and they began arriving in greater numbers once the railway was extended into St. Ives in 1877. Musicians, writers, ceramicists and ever more painters followed.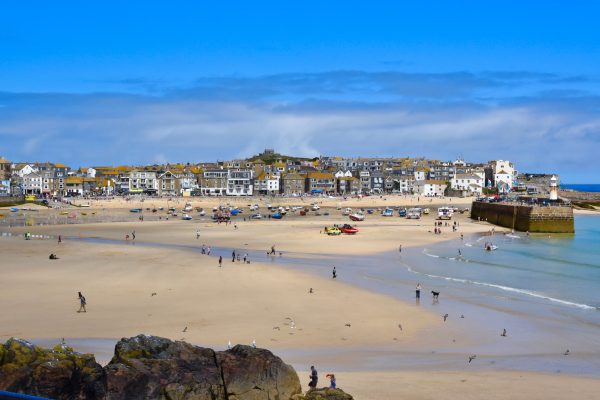 When the celebrated sculptor Barbara Hepworth died in 1975, her St. Ives home became a museum under Britain's prestigious Tate Gallery – which opened an entire branch in St. Ives in 1993. It was to the Barbara Hepworth Museum that we headed from our hotel, after first picking up some savory Cornish pastries (called pasties) with untraditional fillings like Thai chicken and spicy chickpea, on St. Ives's main, pedestrian-only shopping street.
Dozens of modernist bronze, wood and stone sculptures filled the white-walled Hepworth house. Outside, the sun lit up bold, roughly polished pieces, some over three meters tall, which competed for space with the untidy greenery of the garden, a dizzying mix of native and exotic plants: ferns, scrappy bamboo shoots, and the occasional stunted palm tree.
Tate Gallery St. Ives
From the Hepworth home, we walked back towards Porthmeor Cove, but stayed above sea level, entering the Tate Gallery St. Ives to admire stunning photographs, sculptures, and installations by international artists.
A room designed by Brazilian artist Rivane Neuenschwander was festooned with hundreds of thin, brightly hued ribbons, each bearing a single, distinct wish. Visitors were invited to don one ribbon like a bracelet. I tied a green ribbon with an ecological aspiration on my wrist, while our teenaged daughter fastened a purple one with a similar hope around her ankle. Our eight-year-old son chose a blue ribbon with dreams of flying through space; my husband opted for red.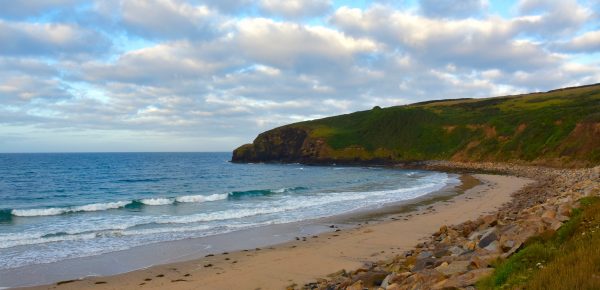 From the ribbon room we reached the final exhibit, which featured small, organic sculptures laid upon sleek, industrial surfaces, reflecting perhaps the juxtaposition of the museum itself, a modern building overlooking the untamed sea. That exhibit space was shaped like a cove, much like the beach visible through its massive windows. Through the glass, the sea mirrored the cerulean sky, and a mere whisper of clouds hugged the horizon.
Daylong sunshine was not the norm. On previous days, we'd used the unpredictable weather, and the dependable tides, as our organizing principles to plan visits to other areas – like the soaring cliffs of Lands End, Cornwall's westernmost tip, where our summer layers weren't enough to keep out the penetrating wind. I'd found the tourist-ready theatre and snack kiosk a disappointment, but relished the sweeping views of the Celtic Sea below.
We'd also surfed at Gwenvyr Beach, an extensive, undeveloped shore accessed by a winding footpath down a 200-foot (60 meter) escarpment. Although Gwenvyr's temperature had been balmy, the waves had been too much for our son; so we'd taken turns playing with him on the beach while the rest of us surfed.
Continued on next page