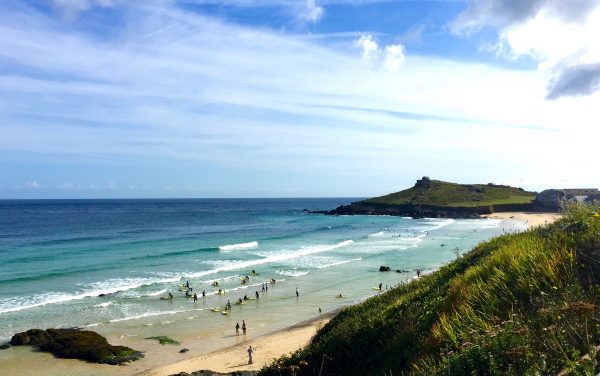 Perched on my surfboard, awaiting the next set of waves, I was suddenly disoriented. The morning sun lit up the pale sand bottom, clearly visible through the transparent, aquamarine water. Surely I was somewhere lush and tropical?
No, I was in fact wearing a 4mm-thick full body wetsuit. I looked at the shore and the dissonance was reaffirmed: in one direction stood a treeless hill of rock and grass capped by a stocky, stone chapel erected in the 15th century. In the other, a renowned modern art museum.
Surfing in Cornwall
Surfing in Cornwall yields one surprise after another. Not just the pleasant shock of pearly white sand and crystalline seas, something I hadn't associated with cold-water surfing, but also the unexpected joys that follow a morning of wave riding – be they contemplating world class art, exploring medieval fortresses, or dining in chic, farm to table restaurants.
On this nearly cloudless Sunday morning, I was catching waves in St. Ives, a centuries-old Cornish fishing village turned artists' colony that served as the base from which my husband, daughter, son, and I explored Cornwall's best surf spots over a week in June.
An outcropping on the final stretch of the Cornwall peninsula (most of St. Ives faces east) sheltered from some of the more vicious gales that batter the point – and that propel surf-worthy waves. Only St. Ives's northerly beach, Porthmeor, had waves while we were there and only in the two hours following high tide. Yet, in that brief window of outgoing tide, Porthmeor cove produced picture-perfect peeling rollers. We spent the early morning catching wave after luscious wave.
Continued on next page