Cycling Tour in Scandinavia: A Typical Day
9 a.m. – Enjoy a breakfast of traditional Swedish fare including coffee, yogurt, locally-grown berries and fresh baked goods including Sweden's popular cinnamon rolls or waffles. Cyclists then embark for a leisurely two hour ride.
11 a.m. – After a snack, cyclists ride for another half hour to hour then stop for lunch at a suggested farm café, picnic on the beach or visit the attraction of the day. Cycle for another half hour to two hours.
2 p.m. – Arrive at evening accommodations, typically a quaint bed and breakfast or town inn nestled in a small village.
6 p.m. – Dinner is served at a local restaurant or by the inn itself (think good home cookin' by the kind folks of Sweden. Explore their seafood dishes, they are famous for them).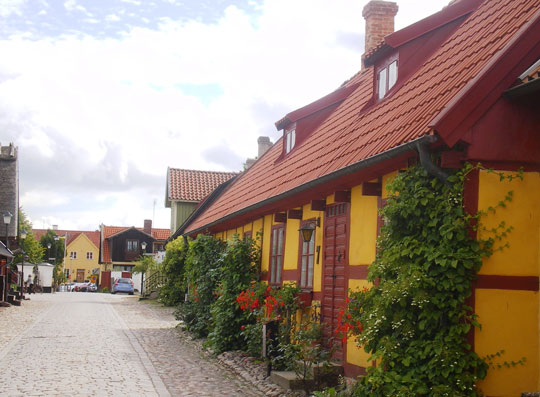 Afterwards you can walk around town, grab ice cream, and take in the scenic views. There are frequent summer festivals going on in July and August with live music, food, dancing, and medieval games displaying feats of strength. If you appear particularly strapping, don't be surprised if you are asked to join the competition. While sampling the native beer and vodka, John competed with local villages by throwing farmer's boots, backing up a tractor with a trailer, hammering nails into a stump and joining tug of war.
All meal locations and activities are suggested, you can get away with your travel partner or explore alone if preferred.
Cyclists ride anywhere from 35-62 miles per day ranging from three to five hours of riding, depending on individual speed and route distance. Daily routes can be lengthened or shortened, and start earlier or later if you wish. Cyclists have the freedom to cycle as much or as little as they would like.
Cyclists carry nothing and enjoy the convenience of a fully-equipped support van providing food, water, bike tools, access to luggage and a place to rest. Tours are typically eight to twelve people.
Continued on next page