The next day a train transports attendees into Sweden by way of the Øresund Bridge, the longest road and rail bridge in Europe serving as both a bride and tunnel across the Øresund strait. Cyclists then mount their bikes and begin cycling east along the coast, beginning in Skåne at the southern tip of Sweden.
While cycling, the sights and stops are infinite.
Lunch at a farm that originated in the 1600's? Absolutely. Nosh on farm fresh food made with family time-tested recipes.
Pick wild berries? As you ride, fields of raspberries, blueberries and strawberries ripen in the sun and are sold street side, beckoning an invitation for sticky fingers. If berries aren't your thing, pick fresh apples and pears from local orchards and farms instead.
Thirsty? Stop at a vineyard along the way.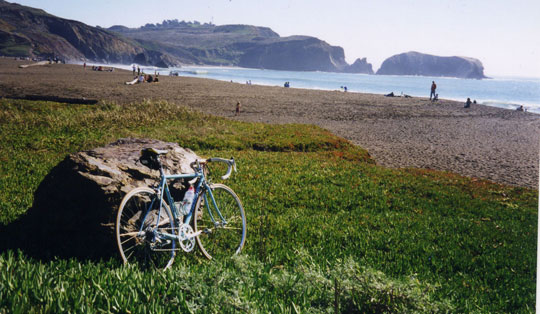 Fancy ocean views? Not only will you see cresting waves crashing on silky white sand shores, flocks of pelicans and exotic birds perch along the coast. If you watch closely, you may catch a glimpse of a dolphin fin peeking out from the water. Dolphins are plentiful in the Baltic Sea and are known to frequent Sweden's oceanic waters.
When you're not staring into the sea, lush green lawns and vibrant fields of lemon-colored rapeseed and orange poppies paint the landscape. Cyclists also share uncrowded bike paths with local Swedes and meandering moose, an animal as plentiful as deer in the U.S. (typically out for a stroll at sunrise or sunset).
As cyclists navigate sunny roads (summer weather is typically 70-75 degrees) they can also enjoy stops at medieval towns and view fortresses built in the 14th and 17th centuries. Black windmills dot your path, some of which double as restaurants. The tour also offers stops at the Glimmingehus Castle, medieval town Simrishamn, Ales Stennar (known as Sweden's Stonehenge), Viking monuments in Österlen and ancient churches in Rundkirke.
A daily tradition in Sweden is fika. In short, fika is similar to afternoon tea in England, minus the crumpets and Earl Grey. During fika, Swedes enjoy coffee and cinnamon rolls. The cinnamon rolls in Sweden are unlike the frosted hub caps found in the states, but rather small rolls flavored with more cinnamon than sugar. Perfect for a snack with a cup of coffee, minus the sugar coma.
Continued on next page