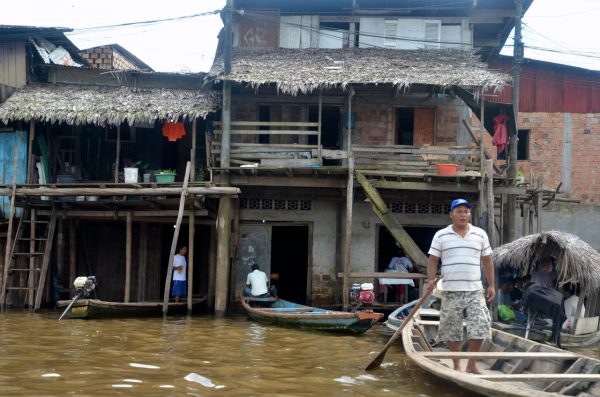 And as you coast by a quiet sawmill awaiting the next barge of timber to arrive, you can't help but notice the crude but colorful structures that the lowlands people call home. Whether rising or lowering on logs or held steady by crooked stilts, the buildings have one thing in common — they all answer to the river's temperamental water levels.
These hovels are as bare-boned as you can get and many don't even have four walls. Using sheets of plastic to serve as rain shields and help keep bugs out at night, some structures are just patchworks of old fences and billboard signs. During the day when the flimsy barriers are lifted, it easy to literally peer into the lives of its denizens and imagine the hardscrabble existence these people endure. It's all right there. Their best chance for privacy might be behind the ragged curtains that hang from primitive outhouses bouncing on tiny rafts outside the homes.
Floating in one of the ubiquitous canoes, hiding behind the lens of a camera and gawking into these people's lives makes you compare them to your own. That whole 'Well it's a simpler way of life' seemed just an excuse for those of us who have been dealt better hands. Like most children anywhere, the innocent ones here saw me as a curiosity while they frolicked among the filthy river banks. But in the adults' unblinking eyes, it was easy to see that I was just another intruder. And just as hard as it was to blend in, it was even more difficult to be unaffected by their plight.
Nighttime in Iquitos becomes mostly a matter of safety and common sense for the curious tourist. And, like travel anywhere, being aware of your surroundings is a no-brainer — although maybe a little more so here. Even if you tour in a group, just leave flashy valuables at the hotel. Employees at my hotel recommended I even leave my passport at the front desk.
Most Iquitos shops are closed at sundown and the nightlife is almost non-existent, but I took a short walk to an ex-pat hangout called The Yellow Rose of Texas near the center square. It's a divey restaurant/bar where the waitresses wear University of Texas t-shirts, the bar stools are real western saddles and you can get American-style food your system won't regret a few hours later. And while I'll admit I'm no beer connoisseur and couldn't distinguish an artisanal brew from Old Milwaukee, that frosted glass of Cristal was heaven to my parched throat.
Or, if you prefer, there's Ari's, a Chifa (Chinese-Peruvian fusion cuisine) that seems to be clean, with a friendly staff. Try the juane — a flavorful combination of rice, chicken, egg and olive wrapped in a bijao leaf that is traditionally eaten for the feast of St. John the Baptist. For the more adventurous, there is ceviche — but I wouldn't recommend it — at least not here in Iquitos.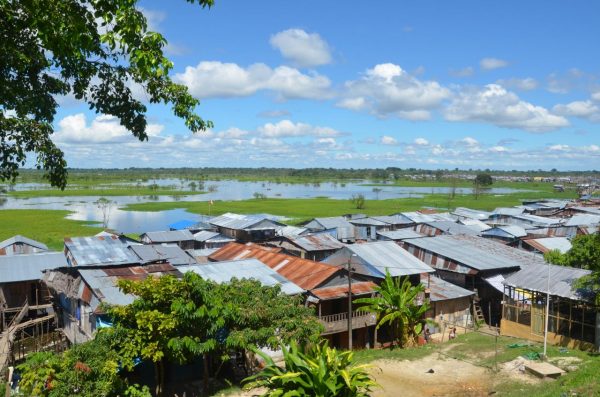 After almost a week here, I'm just guessing that Iquitos may the most authentic Amazon city you will find in Peru — maybe in South America for all I know.
If You Go to Iquitos, Peru
Wanderers can enjoy day-long boat excursions up the Amazon to a village where you can meet and barter with the local Yaqua tribe and there are nighttime jungle tours. For the off-beat, there are the shaman retreats where you can embrace Nirvana with the hallucinogen ayahuasca. And for animal lovers, there is a rescue reserve where you can see large anacondas, blue-beaked toucans and even cuddle a sloth. What you won't see in Iquitos are McNuggets, super stores or city life as you knew it before. So if you want to experience the real Amazon, Iquitos is a good place to start.