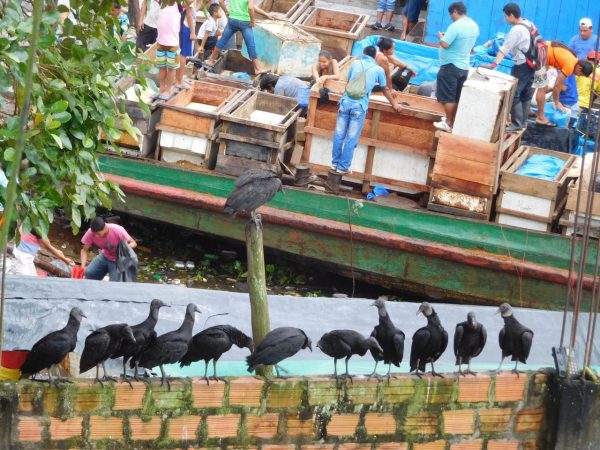 The morning action in Iquitos seems to kick off around 4 a.m. at the main dock on the Itaya and doesn't let up until nightfall. A loudspeaker blasts a mix of raspy dance music and garbled announcements to the hordes gathered on the water banks below. Unluckily for me, I was sleeping in a hotel within ear shot. Luckily for me, I could photograph the madhouse of activity from my hotel window just as things started out in the morning sun.
And what I saw was a constant flow of motorized banana boats (called peka-pekas after the engine's putting noise) piled high with the green and yellow fruit. They jostled with the larger ferries and fishing skiffs, all filled with baskets of giant catfish, piranha and other scaly delectables, as they putted into the docks (mainly planks stretched across floating logs).
Shirtless men covered their backs with sheets of cardboard and hauled the goods up a long, slippery staircase to the market on the muddy street above, while women barked out prices to buyers. Larger ferries brought in everything from motor parts, lumber and tools, along with families who endured the weeklong journey down the Amazon, having slept on hammocks slung up in an open area.  Those who can afford it can tuck away in a few cabins outfitted with simple bunks.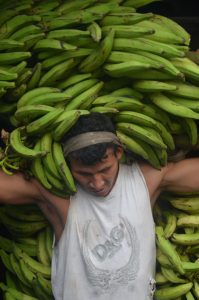 Like lines of leafcutter ants in a jungle of boats, unending streams of men and women navigated the planks on the river and steps leading up to the street. They carried anything from their body weight in bags of cement to so many bananas they toppled over their heads and covered their straining faces. In one line I even spotted a man shoulder a whole motor scooter up the hundred or so stairs like it was nothing.
Just a short walk or boat ride from this mayhem and the main square of town lies a favella called Belén — one of Iquitos' four districts where the rows  of rickety wooden houses line up on the banks of the river. Whether topped by tin or grass, the homes are propped up by stilts or floating on logs. They rise and lower at the whim of the rainy and dry seasons.
Many of the goods brought into port are headed to an area of Belén called the Merkato del Brujo, loosely translated as Market of Witchcraft or Shaman's Alley, the highlands section where you can usually find anything the Amazon region has to offer.
It's the kind of market you find in most third world cities — an atmosphere that enchants tourists with the merchants' strange array of foods, crafts and wares. And it doesn't get any stranger than this place. Every sense is overwhelmed by blocks of street vendors peddling everything from weird species of fish, fruits you won't find north of Colombia, exotic potions, coca leaves and tempting (but not for consuming) street food. And although I didn't know if they were for eating or companionship, there were tiny monkeys and giant iguanas you could buy for less than a bag of socks in the U.S.. It was all under the watchful eyes of mangy street dogs and black vultures gazing down through the colorful tents.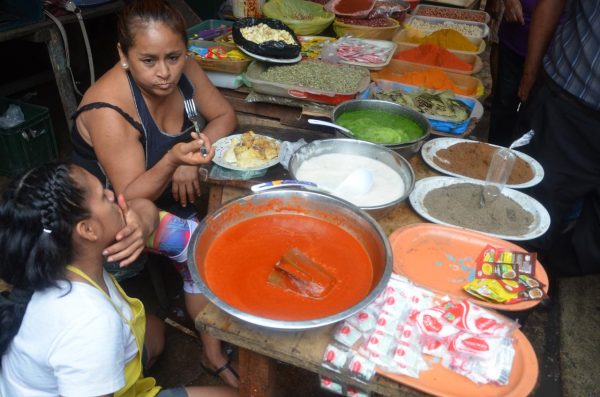 Authentic for sure, but so was the possibility of getting robbed. So I was told.
Almost all of the tourist sites I Googled before my trip stressed how safe Iquitos was —  red flag up — despite its reputation throughout Peru as being rough. Visitors are warned to avoid Belén not so much for violence as the pickpockets and thieves. Still, during such petty robbery one can never predict how far an incident could escalate.
So as a precaution I hired a guide named Christian to take me through the market on a private tour for a few hours one damp morning, although he seemed reluctant to go into Belén as a hired hand. He warned me that my expensive Nikon would equal a few months wages to any quick-handed strap grabber and briefed me about a British woman who recently had her purse snatched while she was pole dancing on a boat (I didn't even ask) and lost everything.
Christian told me not to flaunt my camera or, basically, anything shiny. At his suggestion, he brought along another guide to trail me through the market so I wouldn't get jumped from behind. I felt like Michael Corleone in that scene when he strolls through Sicily, or even a president with my own Secret Service — only without the agents procuring prostitutes which, sadly, are common in these slums. I managed to make it through the crowded streets with more stares than jostles. The only things taken were the brightly colored images I got with my camera.
The real novelty of Belén is the watery roadways. Like a less romantic version of Venice — way less actually — locals go about their business fishing or heading to market cruising the murky canals in their crude, mud-caked dugout canoes. You won't hear O Sole Mio being serenaded here. And even a cheerful tour guide can't sugarcoat the poverty, despair and abject conditions which permeate the area.
Continued on next page