The goats keep their distance as we eat breakfast, and we settle into an uneasy trust with the two animals. Breakfast does not involve the stove – cold cereal. This allows us to get moving more quickly; it's past 6:00am, and we'll need to move fast to ensure we beat the afternoon rain.
At the base of the peak we must mount a rock ledge that runs as a steep, wide ribbon most of the way to the summit. The initial obstacle here is a wakeup. My wife has difficulty with the maneuver – I have a big height advantage – and the danger of a 10 foot fall is immediate. This may not sound like a big drop, but a broken ankle is real trouble and a head injury is a disaster this far in. I think to myself that we should really be wearing helmets, bike helmets if nothing else, goofiness be damned.
We proceed up the ridge avoiding water that's flowing over the rocks. The stone grips very well when dry, yet turns to oiled glass when wet. This is another reason we must be off the peak before the thunderstorm. The skies are mostly clear so far, and the altitude we're gaining affords us an awesome view of Vestal's sharp rise. Moving a little higher we can see Vestal Lake, teal blue with patches of ice remaining even this far into the summer.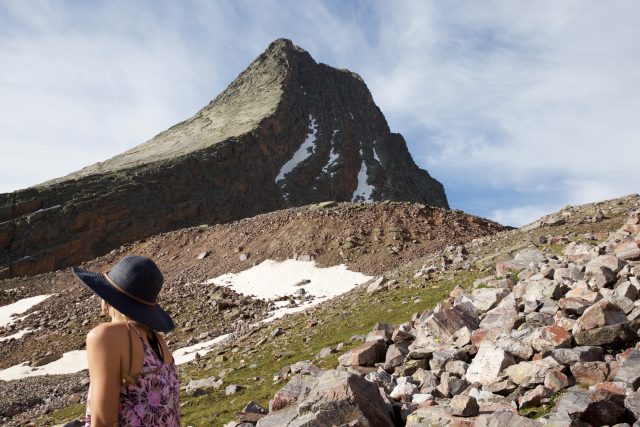 The trail disappears entirely now and we're climbing on all fours, managing one maneuver upward at a time, then scouting for the next point where we can safely move higher. I lead, and pick a spot between boulders that looks feasible. It is, but the spot it leads to isn't one we can climb out of. We're forced to backtrack and go around.
Jeanine is reporting mild low blood sugar dizziness. I suggest going back, but she thinks she'll be fine if we stop to eat. We do stop, and watch clouds beginning to form in the northeast sky. She's a trooper, but I can tell she's approaching her limit.
Cresting a small saddle between the actual summit and a dramatic false summit spire gives her a second wind because the view of the other side of the horizon becomes available. Gray stone, snow, and sky is all that can be seen in the distance.
We drop our bags. They're cumbersome, and we think we're within 100 vertical feet of the summit. I'm confident we can find them again on the way back down. This helps, because the obstacles continue all the way to the top.
We've done it, and I let out a holler. We're 13,809 feet above the sea, and the world lays out 360 degrees around us with snowcaps as far as we can see. We kiss, take pictures, and pause for just a short time before descending. The clouds are still far away, but they're darkening.
Going down is almost harder than going up because you can't see footholds or easily assess what's below you, but we make the descent without incident. The clouds have built up heavy now. It's just a matter of time. We're safe from lightning, but not the inconvenience of wetness.
Fortunately, the rain begins its first drops as we unzip the tent. The tent is a victory, and the timing of the rain a blessing.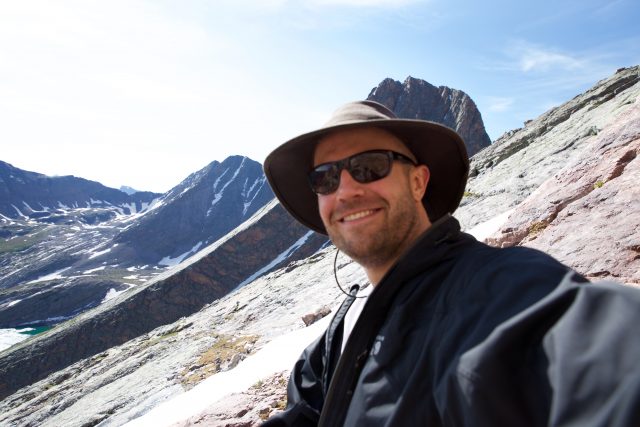 We nap, we eat, we make little moaning sounds when we attempt to move. I'm so sore, despite a steady diet of Advil that I've put myself on since we got off the train.
As the rain clears, the meadow basin is illuminated with life, and we realize it's all ours – we're the only two people in the world. It's Eden.
I go barefoot to the creek to fetch water and fully submerge my body in the cold. I lie flat in the shockingly icy water and grip the rocks to keep the creek from carrying me away as I put my head under. I'm reborn.
Not long after redressing we get our first visitors since departing from the beaver ponds. Our solitude is broken, but not by much.
I talk with the first of three packers as the other two come up from behind. He's beardy, has kind eyes, and introduces himself with a handshake that implies we're going to talk for a while. These guys are local to Durango and looking to climb Arrow as well in part of a longer trek that will drop them down into Needleton.
They offer us a beer. These crazy men are packing around beer this deep into the backcountry, possibly good beer in heavy glass bottles which they will then pack out again. It's a burly, irreverent thing to be doing; whiskey would have been more space efficient and much lighter.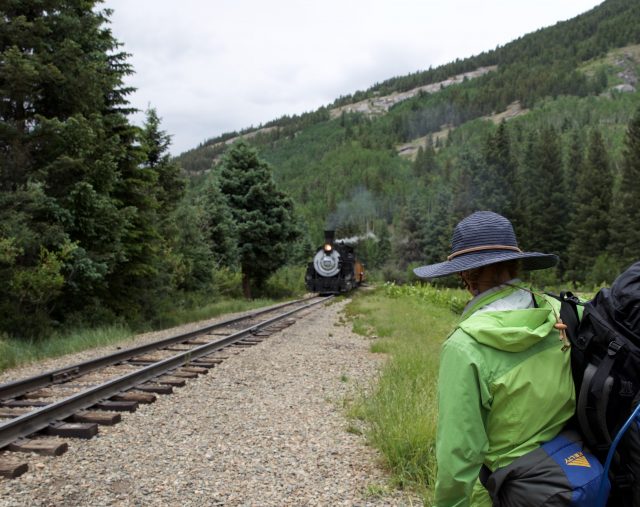 After completing the trek back out to the train stop we sit by the Animas feeling fulfilled and victorious, enjoying the moment yet anticipating the food and the comforts of Durango. Stepping aboard the train, we begin the transition to civilization again. We enter amongst the other passengers, distinguished from them for having gotten off for a greater adventure than just the ride to Silverton and back. We're distinguished by our odor too.
Fortunately, a shower and another, more civilized adventure awaits us in Durango.
If You Go to Durango or Silverton
If you're not going to backpack, at least get off the train and camp overnight. The ability to transport gear on the train means you can essentially car camp far, far from the road.
For more southwest Colorado adventure, checkout the nearby ruins of Mesa Verde National Park.
Jack Bohannan is a freelance writer and outdoor enthusiast living in Denver, Colorado.