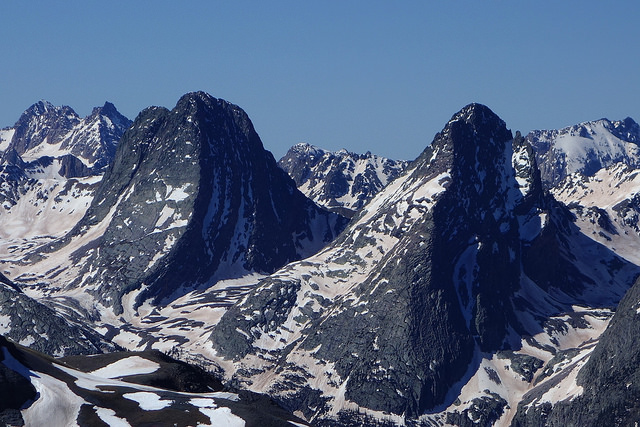 When the camp guide is told that we're headed back to Arrow and Vestal Peak, he perks up. He hasn't been yet, but has heard stories. It seems everyone who's visited the peaks reveres them, remains in awe of them, and tells their friends. Any of the people I've talked to about Vestal Peak and its north-facing Wham Ridge take a special ownership of the area, and I guess I do too. I climbed Vestal with an Outward Bound expedition shortly after high school, but as much as I'd like to climb it, that's not the peak we'll be doing this trip. We're not rock climbers, and we're not outfitted with ropes and the necessary gear.
Vestal's sister, Arrow Peak, is our aim, and it'll be quite enough of a trial. It's a similarly shaped upheaval of quartzite from the crust of the earth: triangular, sudden, and violent. While it's not a technical ascent, it's very much Class 4 climbing with frequent use of hands, lots of exposure, and plenty of places to die.
My wife, Jeanine, has historically feared heights to some degree, though she's come around a little lately. I'm really hoping she's game for the summit. I've downplayed the nature of the peak thus far in hopes I can gently cajole her to push her edge as she gradually realizes what we're in for. For this reason I'm not totally attached to the idea of summiting, though I'd certainly like to.
Wild flowers, aspen and ivy abound as we pass along the creek; it's been green this year with lots of rain. And indeed it's going to rain. It's not if, it's when. Afternoon thunderstorms are a certainty in the Rockies, and we know not to expect otherwise. This is why it's so important to be off the peak by noon. Around 20 people are struck by lightning in Colorado every year.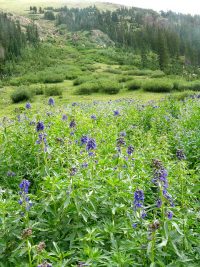 As we stop to put on rain gear and pack covers, we're passed by the group and their guide says, "Yep, it's about that time," as though he was awaiting its arrival with the same burdened certainty.
The rain in the Rockies is clean, cold and beautiful if you can stay dry. It's usually brief and often followed by uncanny sunshine. You wish it away, denying it all morning, knowing it's coming and hoping it isn't. The rain is inconvenient, and nobody likes dealing with wet gear, but when it passes it leaves a kind of uplifted giddiness in backpackers. The anxiety of getting wet clears into relief and sunshine.
This rain clears, but not before it hails. The hails hurts through the hood of our parkas. The torn red tarp I'm using in place of a pack cover continually falls off, and holding it in place makes my hands wet. Wet hands are cold hands.
We pass the first oncoming backpackers we've encountered just as the hail stops. They've been where we're headed, and say they had the entire basin to themselves. These two men have the post-rain giddiness and are talkative, having been deprived of society for a week. We talk. I realize they have that same ownership of Vestal and Vestal Basin, like it's a gift that was given to them and they want to share it. They report mountain goats and the possibility of moose at the beaver ponds. We were hoping for mountain goats. These goats are spectacular, magnificent wild animals that want nothing more than to lick up human urine. They need the electrolytes, and are neither shy nor particular about how they get them.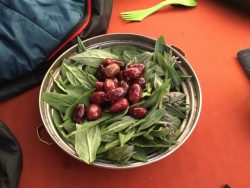 We meet the kids and their guide again at the beaver ponds where our trail to Vestal is departing from the Colorado Trail. He asks about the peaks again, if the trail to their base remains visible such as it is here, and if I think it would be a feasible day hike for the kids tomorrow. I say I think it'd be a go.
As we descend for a final crossing of Elk Creek I feel bad for telling him it would work for his group of teens. It won't. The trail hits a steep, sliding section then requires a sketchy crossing on downed pines across fast moving water.
The trail becomes faint as we climb, and we have trouble tracking it despite constant attentiveness. It's difficult to tell if the patch of trail that we're walking is "the" trail or just a game trail followed mostly by elk. The trail we're following tapers off into the thick underbrush, leaving us to backtrack and attempt to locate "the" trail again.
Eventually the canyon rolls out into a wide meadow, and we stop to camp. It's late and we're exhausted, though part of me wants to go further and spend the night above tree line. It would shorten our hike tomorrow when time is of the essence in avoiding the thunderstorms, and it'd just be cool to sleep in the high alpine. That being true, the meadow is perfect and a spot near the trail is flat for the tent. We feel conscious of the delicate ground-cover we're trafficking. Everything this high up is delicate and clinging to life. It's so pristine that care should be taken.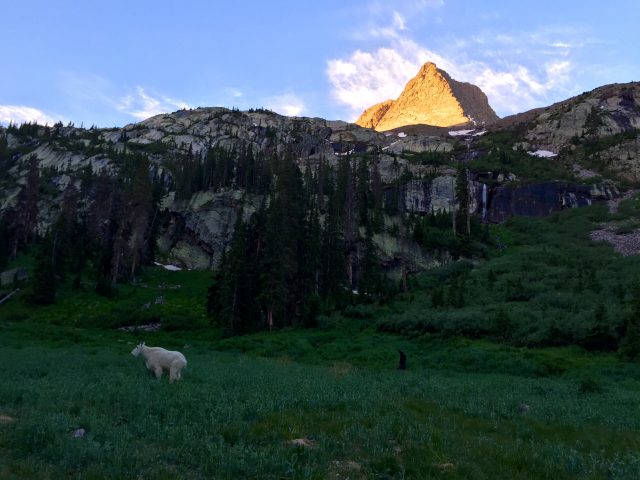 The world is timeless and entirely ours as the sun sets behind the peaks to the north, and Vestal is the last peak to be illuminated over the rise. It's a monumental temple constructed without human involvement, a golden spire in the dusk.
We fetch water from Vestal Creek which is so thickly vegetated as to make that difficult.
This high up in the mountains I have no qualms about drinking untreated water. It's delicious. Iodine tablets or filtration are not necessary to avoid giardia because there is so little upstream, and in fact so little above us at all. It's simply snowpack and spring water.
We awake to the goats. It's as if they know hikers emerge from the nylon domes with the sunlight and that urine is a certainty at that time of day. Our phone batteries are nearly exhausted by the picture taking, and the goats give plenty of opportunity for shots. I'm the first to emerge, and the goats are close to the tent, too close for comfort. The wild, horned animal walks directly toward me. It comes as close as 20 feet and I retreat back into the tent. Photos can wait.
Continued on next page