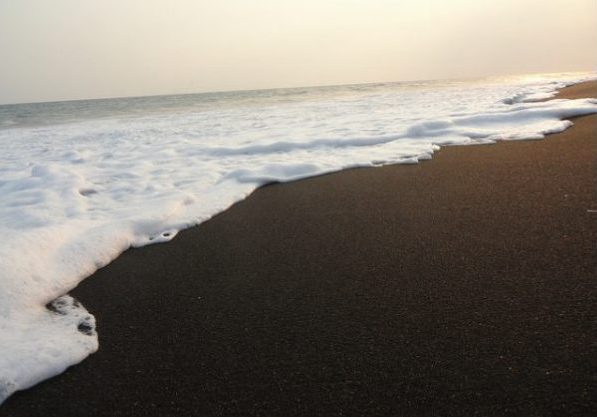 After successfully buying Tilapia from somewhere down the mangrove canal it was time to start cooking. I always find it interesting to see the different methods used throughout the world to accomplish the same tasks. In her open-air kitchen that stood away from the main house Marta caked the fish in salt and then let it sit, telling us that the salt "cooked" the fish before she put in on the fire.
I guess it is similar to ceviche, where the lime "cooks" the seafood. As the fish slowly cooked I could see smoke drift out from the palm fronds that substituted as walls in the kitchen. It took hours which we spent laughing, telling stories and playing with Rosa, but by the time we all sat down to eat the aromas filled the air and the fish crackled as its skin was broken. All together it was a magnificent meal, and making it that much better was the fact it was home-cooked and we had watched all the work involved making each and every bite.
So, I didn't really swim at the beach, nor did I join in the raucous party that enveloped Monterrico, but the experience was once in a lifetime and I thank my friend for exploring the area with me, not just hanging at the hotel. It just goes to show that there are many roads in life and it isn't just the main one that I want to party on.
If You Go to Monterrico, Guatemala
Be aware that the waters around Monterrico can be dangerous, with riptides, strong currents and a strong shore break. Even the strongest swimmers should be wary of the waters here.
There are a number of busses that head for Monterrico regularly, both from Antigua and Guatemala City. Check your local bus depot for hours of operation and expected travel time.
By car you may take the bridge (there is a small fee for passage) to Puerto Viejo and proceed to Monterrico or you can pass through Taxisco to La Avellana and take the car ferry to Monterrico. Be aware the car ferry is not for the faint of heart.
Lodging accommodations can be found on any number of websites or travel guides. Be aware weekends and holidays can be busy and it may be advantageous to book your accommodations in advance for such days.