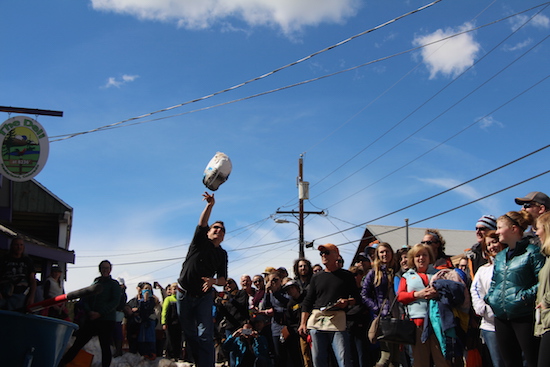 The Frozen Turkey Bowling does not disappoint, though I'm a little upset that the turkey is wrapped in its store-bought plastic rather than in the buff. Six pins are arranged on a plywood plank about 20 feet away from contestants. The men bowl with a large turkey; women and children are offered a smaller one. Three throws cost $5. The used carcass is "donated to Ed's dog," or so says the program guide.
The first boy topples a total of four pins with his three throws. The next man is tall and brawny, yet falls short with the heavy turkey on his first throw, then second. But the third throw has all the force of his embarrassment behind it: the turkey nearly clears the pins altogether, knocking down four of them and smashing into the shaky, metal barricade protecting the crowd. The remaining two pins wobble and fall. I wonder about the liability issues of hurling a 25-pound frozen bird.
I'm now covered in a spray of slush, and if you've seen one man bowl a strike with a frozen turkey, you've seen them all, so I walk back up the street to a coffee shop. The air is phenomenal. It's thin and impossibly clean, purified by the high-altitude, blue-spectrum sunlight, then infused with pine. The coffee shop is pine too, paneled top to bottom in the warm texture of natural wood. Nederland is nice. I sit, drink my coffee, review my pictures, and enjoy being alone in the crowd.
Bands will play into the night, but my suburban life and domestic responsibilities call. I must go, so I write 'Boulder' on another piece of cardboard, trudge back out to the road, and stand, hoping for a ride with someone crazy enough to make me to feel wildly alive. Then I ride back to Boulder with a dentist in a sedan.
If You Go to Nederland
Should you attend the Frozen Dead Guy Days Festival, be sure to checkout the 1st Street scene and then wander west and have coffee at the New Moon Bakery and Café. Make sure to save time for the concerts that happen in the evening, particularly whatever band is headlining Saturday night.
www.colorado.com/cities-and-towns/nederland
Jack Bohannan is a freelance writer living in Denver, Colorado