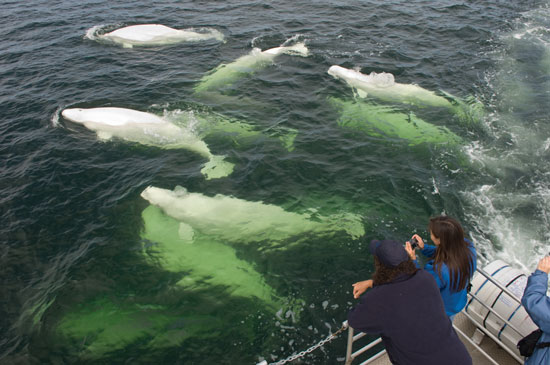 Floating facedown in Canada's frigid Hudson Bay, I watch the scene below me.  A pod of nine beluga whales slowly circle beneath, their white blubbery skin reflecting rays of sunlight that have somehow reached the murky depths.
These icy waters near Churchill, Manitoba, are the summer ground for thousands of belugas, and I'm surrounded by the curious giants. Like an alien in another world, I eavesdrop on the squeaks of whale conversation.
Then suddenly, a 14-foot (4.2 m) beluga is beside me, her large doe-like pupils eyeing me up and down. I stop breathing and stare back, trying not to move. Twenty feet away, my friend Heike, who has bravely accompanied me to this outpost in the sub-arctic, has her own encounter with a pod of whales.
Never mind that the water is just 38 degrees Fahrenheit (3C) or that the dry suits we're wearing over winter jeans and coats make us look like fattened seals. This is an experience we'll never forget.
Getting here, however, was no easy task.
Located 900 miles (1440 km) north of Winnipeg, not far from the territory of Nunavut, Churchill is only accessible via air or train passage. We flew in on one of Calm Air's propeller planes, half of the seats filled with canned food and boxes from Wal-Mart.
It was well worth the trip. Upon first glance, this quirky town and its 850 residents seem to have stepped right out of the TV show, "Northern Exposure." Here, in one of North America's wildest places, man, animals and nature live well together.
Man, of course, must respect that nature – especially the region's most famous residents – the mighty polar bears. During October and November, hundreds of bears concentrate near Churchill, waiting to move onto the ice for the winter. It's the largest polar bear concentration on earth, which can be a challenge if you live here.
Cabins outside of town must be boarded up during that time, as windows don't always stop curious bears. And the town's Polar Bear Alert System steps into high gear. Animals that come near Churchill (over 100 bears visited last year) are driven out or captured and put into Polar Bear Jail. Often, the beasts are then relocated to the ice via helicopter.
During October and November, hundreds of bears concentrate near Churchill. Visitors can get closer to the bears in these tundra vehicles.
Churchill overflows with tourists during that time, but it is summer now, and most of the bears and tourists are gone. Heike and I are left with the whales, the wide-open spaces and the residents of Churchill in their relaxed summer mode.
That laid-back spirit was immediately evident when Dawn Daudrich of the Lazy Bear Lodge, our home for the week, picked us at the airport.
"How about a tour of Churchill?" she offered, tossing our luggage into her van.
We roared into Churchill and cruised down Kelsey Boulevard (the only paved street in town), past the town's "multi-purpose building," which houses the library, school, indoor pool and other community services, and then down several side streets with homes and businesses. We also skipped over to the port at Hudson Bay, which is only used during the summer after the ice has broken.
"And that's about it," Dawn said, pulling up at the Lazy Bear Lodge. Our in-depth tour had taken all of 10 minutes, but now, at least, we knew the lay of the land.
Our main reason for coming, of course, was to see the whales. So Heike and I met up that afternoon with Mike Macri, a former engineer who now owns Sea North Tours. Soon we were zooming across the Churchill River in his custom-built jet-powered boat in search of the creatures we had heard so much about.
Within minutes, we saw what looked like hundreds of white-capped waves dotting the surface of the water; yet as we neared, the realization sunk in – they were whales surfacing.
The belugas come to the Churchill River each season to molt, arriving in mid-June and leaving at the end of August. Mike estimated that there were more than  2,000 whales in the surrounding water, and we saw more than we could possibly count.
"This is Churchill's best attraction," said Mike, hooking up an underwater microphone so we could hear the canary-like whale sounds below, "but few people know about it. This is the best place to watch belugas in the world."
No doubt. But there is more to Churchill than whales.
The next morning, we met up with nature specialist Paul Ratson for a hike in the sub-artic tundra. His company offers hikes, road trips, birding tours, and even "bear security" for anyone working or walking in the countryside.
This explained the shotgun he carried. "We have to be prepared in case we run into a bear," he said. "We have more of a chance of getting hit by a car here than a bear attack. Still, it pays to be careful." The last fateful bear/man encounter in town was in 1983.
The weather in the sub-arctic is unpredictable. During summer, it can be sunny and 62 (16 C) or hailing and cold. In winter, lows often reach -50 degrees (-45 C). But the sky was bright blue and the sun warm as we followed Paul along Polar Bear Alley, a deserted beach outside of Churchill. He carefully checked each rocky outcrop, for they are favorite beds for bears.
Paul admitted to a continued interest in the creatures. "Bears, bears, bears," he said, shrugging. "Sure, we're the polar bear capital of the world, but there is so much more to this area. The summers here are really good."
It was obvious that Paul loved the land, showing us sea beach sand wart, which grows on the beach and is used in salads, on dips and is even eaten raw. He offered us cloud berries (an orange colored berry that tastes like cinnamon baked apples) and pointed out one-sided stunted pine trees, reduced by strong winds to one protected side.
Although we saw no bears during our trip with Paul, we saw plenty of whales in the distant waters. The Hudson Bay itself belongs to Nunavut, so several whales are harvested here each year by the indigenous population. Still, the Western Hudson Bay beluga whale population is a healthy 27,000.
Wanting to get even closer to the sea mammals, we hooked up with Kristen Westdahl of Kayak Churchill the next day.
Young and very experienced, Kristen operates one of two kayaking outfits in town. The season begins in May, as soon as the ice begins to break up.
"It's challenging but rewarding to maneuver around the ice flows during break-up in order to see the seals, sometimes 30 at a time," she told us. The waters are home to ring, harbor and bearded seals, while artic terns seem to fall from the sky as they dive into the water to fish for caplin.
We followed the terns, slipping our kayaks into the water and paddling out into the Churchill River. The whales swim 12 miles (19 km) up the Churchill River each day during high tide, where the waters are almost 70 degrees Fahrenheit (21 C). Then, as the tide retreats, they return to the icy waters of the Bay. We planned to follow this daily whale ritual.
At first the creatures were shy, but then they swam closer and closer to our kayaks. A mother and calf passed by, and then whole pods of young males. Each brief encounter was a thrill, and within an hour, we were hooked.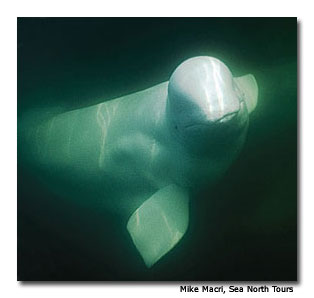 It was time to meet the whales face to face.
Which is how I ended up here in the cold water, my chin quivering against my snorkel. But the whale parade continues, and I soon forget about the chill. There are hundreds of the graceful white creatures surrounding us, swimming slowly and at ease. Belugas are one of the few whales with necks, and they often cock their heads in seeming curiosity. Perhaps we are as strange to them as they are to us.
"What can you see down there?" Wally Daudrich yells from the boat. In addition to running the Lazy Bear Lodge with his wife, Dawn, Wally runs one of the three snorkeling outfits in town. He's picked the perfect spot for our swim.
Yet I can't believe that he hasn't been able to see all the animals surrounding me. The amazing show in the channel's depths can't be seen from above.
I look over at Heike, who is shivering, but motioning to the sea mammals with her arm.
"Did you know you just waved to a whale?" I tell her through my snorkel.
"I can't help it!" she laughs. "They just seem so friendly!"
They do, indeed.
Finally, the water wears us down, and Wally has to haul back us into the boat. Our teeth are chattering and our limbs shaking, but we hardly notice. As the boat skims back toward Churchill, all we can talk about are the whales.
If You Go
Travel Manitoba
www.travelmanitoba.com
Canadian Tourism
www.TravelCanada.ca
Sea North Tours
Whale Boat Tours, Snorkeling, Kayaking
www.seanorthtours.com
Lazy Bear Lodge
Snorkeling
www.lazybearlodge.com
Photos by Travel Manitoba