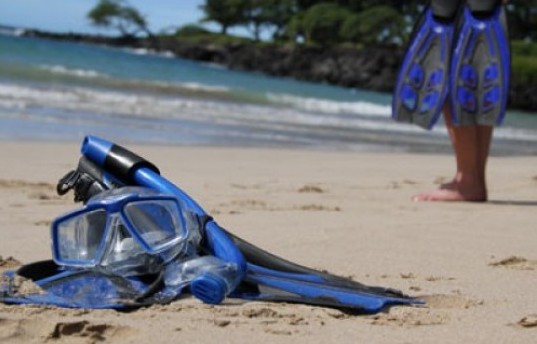 Best Places to Snorkel in Hawaii
Floating facedown in the dark ocean, I see a shadow approach from the depths below. As the creature nears, its enormous size is revealed—10′ across from tip to tip. With grace, the giant manta ray moves like a bird in flight. I stop breathing through my snorkel as it swims towards me, its mouth open so wide I can see into its body.
The young female, who will someday reach 17′ across, comes within inches, but then flips so we are belly to belly. I see the spots on her underside, and look into her eyes when she comes back again and again. Such encounters are unforgettable—and Hawaii is one of the few places in the world where you can see the giant rays. The creatures feed on plankton nightly in the clear waters of Keauhou Bay on the Big Island, and locals have taken note. The Sheraton Keauhou Bay Resort & Spa has a manta ray program. Carefully-placed lights encourage manta ray activity, and ray experts educate hotel guests.
Select outfitters, such as Fair Wind Big Island Ocean Guides, allow snorkelers and divers to observe the creatures up close. Before jumping into the water, we learned how to observe without disturbing the animals. Then donning a wetsuit and snorkeling gear, we slipped into the water near a floating string of lights. Plankton is drawn by the light, and the manta rays feed on the plankton. There are three giant manta rays here tonight, flipping and turning like circus acrobats. For half an hour, we watch their dance, thrilled with the surreal scene below us.
The Hawaiian Islands are known for their beauty, warm weather and unique culture, but there is an entire watery playground to explore. More than 680 species of fish can be found in Hawaiian waters, and some 30 percent are only found in Hawaii. Humpback whales come to the island waters each winter to breed and birth their young, but other whales live in the warm Hawaiian waters year round. Spinner and spotted dolphin pods make their home among the islands. So later that week, I head out with Wild Side Specialty Tours in search of the playful animals.
Continued on next page