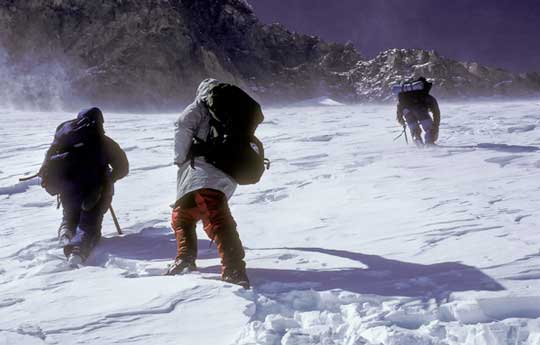 At 22,834 feet above sea level, Aconcagua looms as the highest peak in the Americas. It lies in Argentina, roughly midway between that country's wine center of Mendoza and the Chilean capital of Santiago. By its easiest route, the climb is not technically demanding, but the twin jabs of altitude and weather have knocked out many who have attempted its summit. My visit to the nearby climber's cemetery provides a sobering reminder that the Grim Reaper works overtime up high.
Aconcagua rises from the treeless Andes on the east side of the international border. A broad ridge and a sheer face separate its twin summits. Unlike many of the world's high peaks, this one contains only a few small glaciers. Otherwise, Aconcagua's crumbling pile of rock and ridges earns it the reputation of being world's highest rubble heap.
Horse packers haul our gear to the mountain basecamp at 14,000 feet, a two-day hike away. From there, time passes in a mountain climber's tedium. One day, we lug loads up to the next campsite. The following morning, we ferry up the rest of our gear. Then we rest. The repetitious pattern gains us a couple thousand vertical feet every three days.
Eventually, we reach a large, flat site at 19,000 feet on Aconcagua's northwest ridge. After establishing camp, we choke down a pasty dinner and set alarms for a predawn wake up. Tomorrow will be summit day.
The beeping alarm shatters a groggy sleep. Creeping from my sleeping bag, I gaze into frigid darkness. The air blows breezy and stars salt an inky-black sky. It looks to be an ideal day to scale Aconcagua.
Our ascent, which begins in near total darkness, follows a distinct pathway that twists up the loose scree slopes. The sun eventually grazes Andean summits to the north, but the trail keeps us in the cold shadows. By the time we reach the battered remains of Independencia Hut at 21,000 feet, I feel as exhausted as a marathoner at the finish line. Only here, there's no T-shirt and Gatorade, and I still have half the mountain to go.
After a brief rest, we climb a steep snow bank and march into the direct blast of unabated wind. The trail leads us across a portion of the mountain called the Gran Acarreo, a smooth scree slope 1,500 feet below the summit. Explosive gusts stop me in my tracks. Wind-propelled ice crystals pelt my face. A ski-mask balaclava gives some protection, but if I cover my nose and mouth I can't breathe.
"Yes," I keep mumbling to myself. "This is what I do for fun."
Continued on next page